Monaco based designer, Lidia Bersani, has created a unique superyacht with an exclusive target audience. La Belle is an 80m long floating cruiser made by a woman for women.
Advertised as the "first mega yacht designed for a lady", Bersani's ambitious and potentially revolutionary project features an opulent interior conceived with "a romantic and warm style using predominantly white, ivory and gold." Swarovski crystal chandelier hangs from the lounge ceiling, floral glass mosaics cover the walls of the private cinema, while mother of pearl generously adorns the other living rooms. The proposed yacht includescream white marble and onyx as well as bespoke wooden furniture accompanied by tailor-made fabrics embroidered and studded with gemstones.
The yacht rises five decks high and includes several lounges and dining rooms with facilities for live music, as well as a spa area with hydromassage pool, a sauna, a hammam, a snow room and ice fountains. Also featured is a small fitness club with an outdoor Jacuzzi, a library with a fireplace, a beauty centre, a disco and a few bars.
La Belle is designed to accommodate 12 guests with a large master bedroom on the second deck boasting a round king size double bed with baldachinan and an outstanding view from large bay windows and private terrace. 5 equally luxurious guest bedrooms are also available.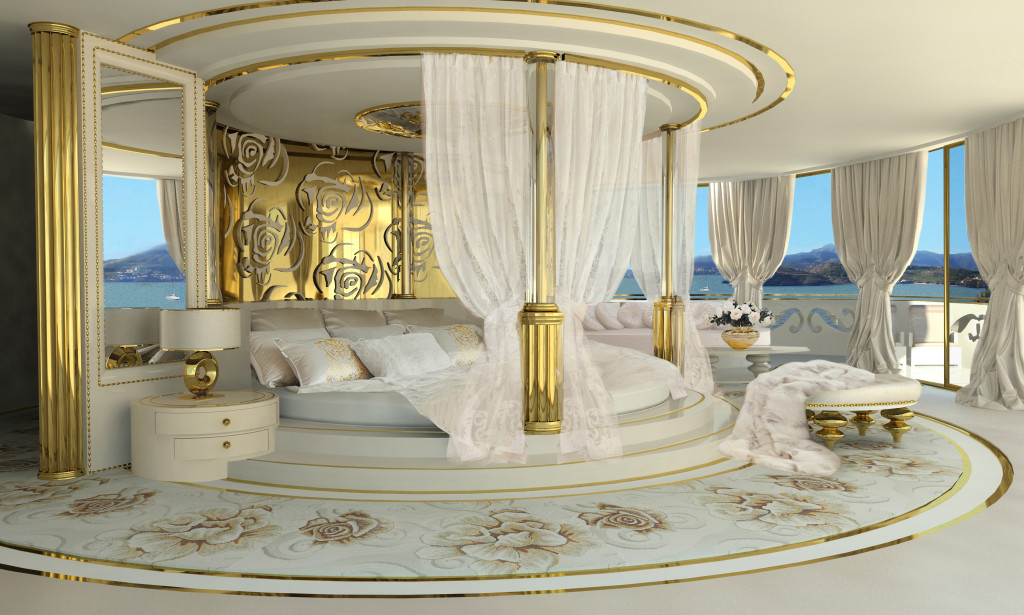 The exterior is also equipped with the finest furnishings such as an ultra-modern stabilizing system among other state of the art equipment. Meanwhile, on deck is a spacious outdoor area with sun loungers and swimming pool, and enough room for a helicopter landing pad.
Although La Belle is still at the planning stages, there has been plenty of excitement generated around Lidia Bersani's project. A price tag is up for negotiation depending on the customer's requirements. However, any bidders would have to wait as the construction period is said to be 2.5 years.