THE LUXURY OF PRIVACY
Nestled on a hillside surrounded by the impressive peaks of the Banghoek Valley near Stellenbosch in the Cape Winelands, is a sophisticated new villa hideaway, The Homestead at Oldenburg Vineyards.
A boutique winery in its own right, Oldenburg Vineyards is at heart of South Africa's successful wine growing region and the gourmet capital of Africa, but Geneva-based owners Adrian and Vanessa Vanderspuy swiftly saw its potential.
Today, they not only offer a unique cellar-door experience (the 360-degree views alone make a visit into this untouched valley worthwhile) but they've now created an idyllic, exclusive-use retreat for wine lovers and guests to enjoy. Adrian's heritage played a vital role in the transformation of this pastoral corner of the valley: his grandmother lived here for 50 years before he became the custodian of some of the finest terroir in South Africa and modernized the 200-year-old farmhouse to create this elegant private residence for modern day living.
Avid collectors for the past 20 years, the couple's photography, art and sculpture collection complements the contemporary interiors with its natural tones of grey, white and wood. There is a good collection of photographs by British artist, Marc Stanes, as well as Cape photographers Stephen Inggs and Caroline Gibello. And in the entrance hall, 'Eroded' is an eye-catching metal sculpture by Regardt van der Meulen.
Vanessa worked closely with Creative Interiors in Geneva, as well as Dewald Prinsloo and Leonard De Villiers of Ebony Design as well as Ingrid Fuller of Fuller Décor to curate interiors, giving it a sense of understated luxury.
Reception rooms and bedroom suites link seamlessly with the outdoors but it's the entertaining area overlooking the pool and valley that draws friends and family together for lazy summer afternoons, high tea and even dinner together under the stars. Bespoke services of a private chef, butler and chauffeur and available for those who wish to truly relax and enjoy the luxury of privacy – what more could one ask for?
EXCLUSIVE VILLA AT OLDENBURG VINEYARDS IN THE STELLENBOSCH WINELANDS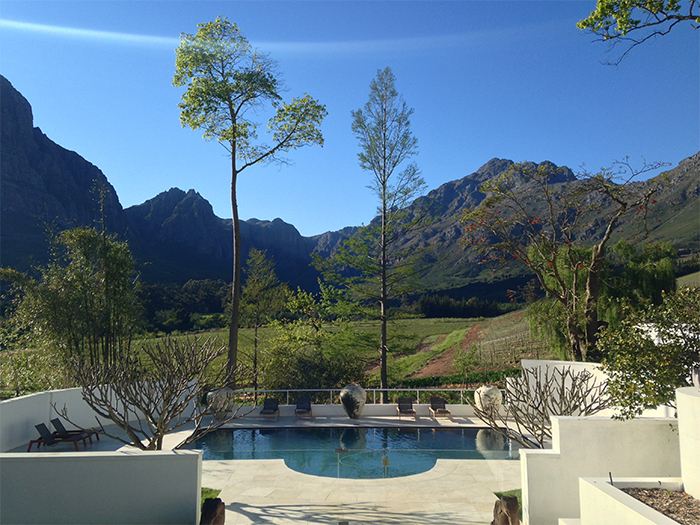 Contact Details: Oldenburg Vineyards: oldenburgvineyards.com
Photographer: Michelle Snaddon
Written by: Michelle Snaddon