Are you looking for a luxury gourmet gift for someone who enjoys the finer things in life? We all enjoy a little luxury in our lives – whether it's a sumptuous feast with friends and family, or just a small indulgence that makes us feel special. That's why a gourmet hot sauce gift set is always a great idea, especially when it's made with quality ingredients and presented in an attractive package. Explore these hot sauce gift sets from Chilli No. 5, which make for the ultimate luxury gourmet gift for the spicy food connoisseur in your life!
The Dining Collection – Gourmet Hot Sauce Gift Set With Handwritten Gift Card – £45.00
The Chilli No. 5 Dining Collection is a luxurious selection of delicious gourmet hot sauces, all made with fresh ingredients and no preservatives or artificial flavours. The Dining Collection includes a variety of 10 truly unique gourmet hot sauces such as Jamaican Jerk, Heavenly Harissa and Perfect Piri Piri. This gift set comes in an elegant velvet gifting box and includes a handwritten gift card with your personalized message.
Passport Piccanté – World Chilli Sauce Gift Set – £35.00
This gift set is an ideal treat for those who are passionate about exploring different flavours of chillies from around the world. It contains 12 different gourmet chilli sauces, each inspired by a different international cuisine — from very hot to mild — allowing your giftee to experience taste sensations from all around the world.
Passport Piccanté contains:
Louisiana BBQ – USA
Perfect Piri Piri – Portugal
Heavenly Harissa – Morocco & Tunisia
Mexican Fury – Mexico
Jamaican Jerk – Jamaica
Wicked Wasabi – Japan
Ever So English -United Kingdom
Devilish Dijon – France
Sriracha Cha Cha Cha – Thailand
Totally Thai – Thailand
Chinese Hot & Sour – China
Forever Phall – India
The Hot Chilli Flakes Box Set – Crushed & Dried Chilli Flakes Gift Set – £30.00
If you know someone who loves it spicy, The Hot Chilli Flakes Box Set will get their pulses racing. This collection of chilli flakes contains 5 of the fieriest chilli flakes in the world, Carolina Reaper, The Scorpion, The Ghost, Chilli No. 5's mix, and the Habanero. As these chilli flakes are extremely spicy, they should be used with caution and preferably added to meals before cooking, to allow the heat to be evenly distributed.
Gourmet Chilli Sauce Gift Hamper – £80.00
This gourmet chilli sauce hamper has all the essentials that any foodie hot sauce lover might need, including two of the Chilli No. 5 chilli sauces, the Pizza Pizzazz chilli oil, two travel-sized Chilli No. 5 hot sauces and a glass vial of one of the Chilli No. 5 gourmet chilli flakes.
Each of these products contains a range of bold flavours to bring an unforgettable culinary experience to anyone to who you decide to gift it. In addition to that, this luxurious gourmet hamper is filled with delicious products that are also good for your health and packed with superfoods which can improve your immune system and libido!
Celebration Collection Gourmet Chilli Sauce Gift Set – £30.00 – With Handwritten Gifting Card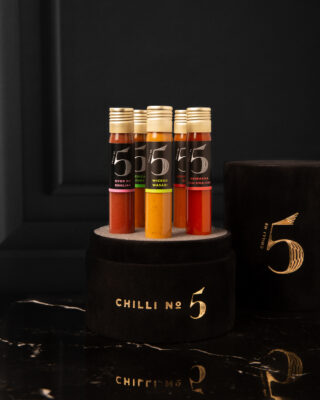 Whether you're celebrating Valentine's Day, someone's birthday, Father's Day, Thanksgiving, or you want to elevate your regular dinner party with friends, this hot sauce gift set will do just that. This collection of chilli sauces was made for bringing people together. Coming in a beautiful velvet circular box, it can be placed in the centre of the table for the entire party to share with one another. Chilli No. 5 believes in bringing people closer together through dining or cooking together, and what better way to become closer with your loved ones than by sharing gourmet food with gourmet chilli sauces that are not only delicious but also filled with health benefits and superfoods.
BBQ Sauce Collection – Gourmet BBQ Sauce Gift Set – £25.00 – with Handwritten Gift Card
Get ready to elevate your garden party with this fantastic BBQ sauce gift set! This stunning velvet box contains five of the Chilli No. 5 gourmet vegan chilli sauces, each of which has been carefully crafted with a selection of herbs and spices to bring out the best in every dish. They are not too hot, but with just the right amount of kick, which will add some serious flavour to any meal. Additionally, each of these rich and flavourful sauces is made with natural ingredients and will bring out the best in your grilled meats and vegetables, meanwhile providing you with important nutrients. The gift set also comes with a handwritten note expressing your love for whoever you choose to give it to.
Kitchen Collection – Best Hot Sauces Gift Set For Foodies – £25.00 – With Handwritten Gift Card
The Kitchen Collection Hot Sauce Gift Set is the perfect gift for someone who loves to entertain and experiment with flavours. This set includes five gourmet varieties of hot sauce, each with its own unique flavour profile.
Kitchen Collection Hot Sauce Gift Set includes:
Sriracha Cha-Cha-Cha
Chinese Hot & Sour
Wicked Wasabi
Ever So English
Forever Phall
Pizzazz Pizza Oil Gift Set – £12.00
The Chilli No. 5 Pizza Pizzazz chilli oil is a delicious blend of extra virgin olive oil, garlic, chilli flakes and fresh thyme for any highly-selective chilli connoisseur. It is the perfect present for someone who likes to spice things up or is a little bit of a homebody and prefers to stay in with their friends, order a Pizza and make a great night out of it. This gourmet chilli oil is also packed with health-benefiting nutrients such as antioxidants, vitamin e, vitamin k, vitamin b, calcium, manganese, iron, fibre and many others, coming from its superfood ingredients such as extra virgin olive oil, rosemary, thyme and garlic.
Individual Chilli No. 5 Sauces as a gift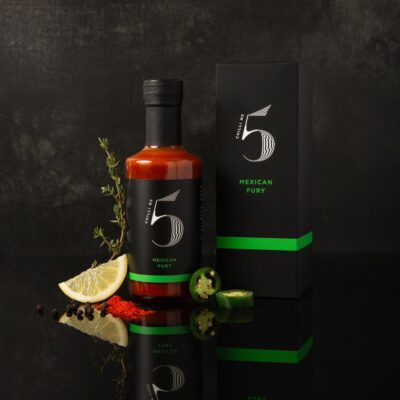 Lastly, for those who know exactly which flavours their loved ones enjoy, a luxurious and beautifully packaged, 200ml chilli sauce glass bottle is always a hit. From some of the Chilli No. 5 staple essentials to limited edition collections to award-winning sauces such as Heavenly Harissa, Pizza Pizzazz Chilli Oil or Sriracha Cha-Cha-Cha, Chilli No. 5 offers a variety of gourmet sauces which make a beautiful gift for just about anyone. They are delicious, vegan, filled with superfoods and health supplements and come in elegant and environmentally friendly glass bottles.
Individual Mini Chilli No. 5 Sauces and Minis Gift Set
For a personalized bundle of your favourite chilli sauces, you can opt for the mini 15ml versions of any of the Chilli No. 5 chilli sauces. This is also a great option for those who are new to chilli sauces and want to try a little bit of everything, to figure out which of the Chilli No. 5 hot sauces they like best.
If you are choosing this gift for your loved ones, you can explore all the different flavours by having a BBQ or cooking a delicious dinner together! So go ahead and explore all the sauces that you are curious about with a bundle of the Chilli No. 5 minis!
No matter which gift collection you choose, it is sure to make an elegant and luxurious gift for anyone who enjoys the finer things in life and will not settle for the ordinary.